This easy to use, battery powered, 2-channel wireless dimmer is ideal for dimming LEDs, lamps, props, costumes and more. It also includes the RC4 Wireless Two-Year Warranty, which is the best in the industry.
YOU MUST UPDATE RC4 COMMANDER SOFTWARE WHEN ADDING NEW DEVICES TO RC4MAGIC SYSTEMS.  THIS UPDATE IS MANDATORY FOR COMPATIBILITY WITH BOTH OLD AND NEW VERSIONS OF RC4MAGIC FIRMWARE.  Visit our downloads page.
The RC4Magic S3 DMX2dim is an easy to operate, battery powered, 2-channel wireless dimmer ideal for use with LEDs, lamps, props, costumes and more. The DMX2dim operates in the popular 2.4GHz frequency used worldwide, so it's perfect for all types of tours.
Like all RC4Magic devices, it includes a built-in radio receiver and uses RC4 OneTouch™ for easy assignment of any DMX channel and dimmer curve to any dimmer with a single press of a single button. Device configuration can also be done with Remote Device Management (RDM) and RC4 Commander Configuration Software.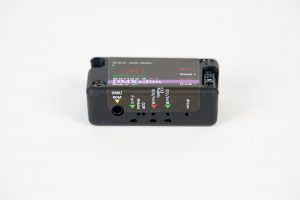 The RC4Magic S3 DMX2dim features include:
The SX Series of products now includes 19-bit dimming, which is eight times finer than 16-bit with a whopping 524,288 steps of resolution. For users, this means exceptionally smooth LED dimming, especially at the bottom end of the curve. All RC dimmers also feature Curve Tweak – the ability to fine-tune between true linear and true ISL to find the perfect fit for any particular LED source. You can even tweak each primary color differently. Dimming is suddenly as smooth as silk.
Learn more about working with the RC4Magic S3 DMX2dim at the RC4 Knowledge Base
The DMX2dim is ideal for hybrid-white LED color mixing, when transitioning between different color temperatures of white. RC4 Digital Persistence™ brings pleasing smoothness to LED dimming.  LEDs have never looked this good. 
RC4 dimmers are ideal for video professionals who must avoid banding, blinking and other anomalies created by PWM (pulse-width-modulation) frequencies. All RC4 Series 3 dimmers provide multiple PWM frequencies all the way up to 40kHz for use with slow-motion very-high-frame-rate video work.
the DMX2dim is ideal for use with the dimmers built-in RC4 Flkr Effects Engine™. Using DMX channels for control, dynamic animated effects are easily and quickly created — this is not a canned effect generator, it is a tool for creating unique looks to suit any need.
Screw terminals are provided for connection of the power supply (+/-DC IN) and load devices (+/-DimA, +/-DimB). The supply powers both the internal electronics and the connected loads. Dimmers switch on the negative side of the circuit, ideal for common-anode (common positive) LED tape. Dimmer output voltage is precisely the DC power input voltage with no appreciable losses within the 16A total power handling limit of the device.

The mini-plug wired DMX data port can be used with a range of RC4 DMX cables, including 3-pin and 5-pin male and female XLR adapters. The most common adapter is the RC4DMX5FA with 5-pin female XLR connector.  This port can output DMX data to nearby fixtures including fog machines, moving lights, and projector dousers. The DMX port can also be configured as a DMX input, allowing the DMX2dim to be used as a wired dimmer.
With a wired connection, a comprehensive RDM implementation includes E1.37 dimmer configuration parameters, numerous status sensors (voltage, temperature, current), and each individual dimmer appears as an RDM sub-device.
Projects and productions in the USA, Canada, Australia, and New Zealand should consider our RC4Magic-900 system. The 900MHz band is far away from WiFi, Bluetooth and other 2.4GHz wireless technology. For worldwide use in all markets, the 2.4GHz RC4Magic system is recommended.
The professionals at the National Theatre used 20 DMX2dims for their production of Angels in America.
100% compatible with RC4Magic Series 2 2.4GHz technology!
All prices and specifications are subject to change without notice.
Dimensions: 2.4″ x 1.4″ x .79″ (61mm x 36mm x 20mm)
Weight: 1.20 oz
Power Input: 6VDC – 35VDC, 0.4W idle, screw terminal connections
Dimmer Outputs: 2 dimmers, screw terminal connections; 77Hz (high power), 615Hz (flicker free), 1.2kHz, 5kHz (artifact free for video), 10kHz, 20kH (noise free for audio), 40kHz PWM; 19-bit (524,000 steps); Non-Dim, Linear, ISL, servo control; ac-wave (ring telephone and more); 8 levels of RC4 Digital Persistence™
Series 3 Versatility: DMX dimming, RC4 Flkr Engine™, RC4 ColorMatch™, RC4 HSL Color Controller, RC4 HotPatch™, RC4 Commander 3.x compatible, wired DMX in/out, wired RDM input, Dongle Mode combined with an RC4 USB CodeLoader Cable becomes the hardware interface for RC4 Commander Software
Sensors: Input voltage, internal temperature, total current draw
DMX Input/Output: USITT DMX512/1990 data, RC4 3.5mm mini non-standard port
Maximum Output Power per Channel: 10A non-continuous, 5A continuous
Maximum Total Device Power: 16A (limited by screw terminal safety rating)
RF Antenna: hidden internal omnidirectional
Unsure which product is best for your needs?