Reliable, feature-filled wireless DMX and dimming for lighting, props, costumes, and scenery.
RC4 Wireless provides wireless lighting and motion technology for theatre, film, and television.
What is RC4 wireless dimming?
Using batteries for power and wireless DMX for control, RC4 wireless dimming puts lighting in costumes, props, and set pieces. Controlled from your DMX console, seamlessly integrated into your scenes and cues, RC4 devices are as responsive and robust as any other fixture in your show, and transparent to the lighting designer.
The core of the most versatile, reliable, small, and easy-to-use wireless dimmers in the world. 
With devices that are compatible with RC4Magic, RC4Magic-900, LumenRadio CRMX, and Wireless Solution W-DMX, RC4 wireless dimmers fit and work wherever you need them, no matter what wireless system is on the job.
Award Winning RC4 Wireless
Customers Large and Small Around the World
New York, Las Vegas, Toronto, London, Sydney, Tokyo, and beyond — RC4 Wireless DMX and Dimming is reliable, affordable, and RC4  systems are sold with solid Product Warranty on all our product lines.
RC4 DOES THAT.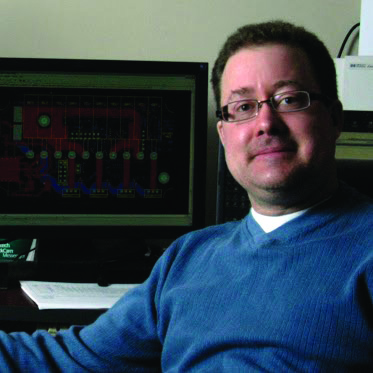 President, CEO and, Chief Product Designer 
James David Smith is an electronics designer and software developer specializing in battery-powered wireless technology for arts, entertainment, and industry.
As the owner and chief product designer for Soundsculpture Incorporated and RC4 Wireless in Raleigh, NC, he has developed award-winning technologies for three decades, including numerous devices in The Phantom of the Opera, complex motor control and networking for scrolling signage in New York's Times Square, wireless motion in Spiderman: Turn off the Dark, and much more.
A well-received course on embedded electronics was created and taught by Mr. Smith for two years at the University of Toronto Professional Development Centre.  
He has contributed articles to Lighting Dimensions, Stage Directions, and USITT's TD&T. There simply is not another person that is as experienced at developing wireless effects for entertainment.
Check out his Quirky Autobiographical Chronical (QAC) page for moderately entertaining additional blathering.
#RC4DoesThat
6 Reasons to trust RC4Wireless
Everyday you are bombarded by companies making lofty claims that are rairly lived up to. We will always exceed our claims.

Innovative Technology
RC4 has been a leading innovator in wireless DMX and dimming since 1991, and an international award winner several times over.

Unmatched Support
When you request support you quickly reach RC4 product engineers and people with years of real-world working experience.

Proven Performance
Tested and proven on stage, screen, tour, in theme parks, events, and major stadiums worldwide. RC4 reliability has been proven again and again.

Industry leading Warranty
All RC4 LumenDim devices are covered by a strong 12-month warranty, including options for overnight replacement and expedited repair. We stand behind our products and our performance claims.

Versatile Products
Over more than 25 years we have learned that your needs change daily. RC4 devices and the people designing them are up to the challenge. Nobody understands wireless, lighting, and motor control better than RC4.

Industry Leading Customers
Katy Perry, Cirque du Soleil, Taylor Swift, Super Bowl, Disney, Feld Entertainment, Madison Square Garden, Broadway and West End theatres, the Olympics, and much more ...