RC4 Features
RC4 Series 3 Harmonized Design™
Reliable, feature-filled wireless DMX and dimming for lighting, props, costumes, and scenery.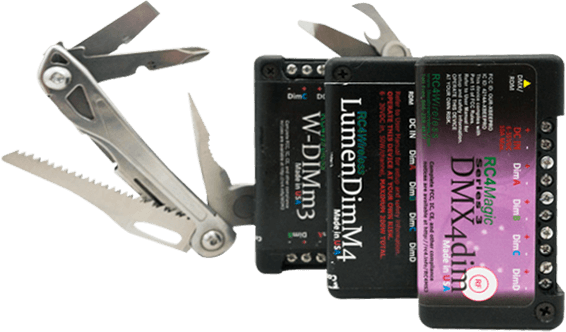 Harmonized Design™ for RC4Magic, LumenRadio and W-DMX
RC4 Wireless has been making the world's most popular low-voltage wireless dimmers since 1991. Today, RC4 Series 3 Harmonized Design™ offers the first and only cross-platform wireless dimmer design that is compatible with all leading wireless DMX data protocols worldwide: RC4Magic, LumenRadio CRMX, and Wireless Solution W-DMX. With only minor hardware differences between models, and a nearly identical user-interface across all RC4 Series 3 devices, a new standard is set for ease-of-use and range of features.
Review the rest of the subcategories to discover all the reasons why RC4 Wireless DMX and Dimming has been a top award winner time and time again. From easy configuration, to unparalleled color control, to outstanding built-in special effects, RC4 Series 3 devices are truly peerless.
With RC4 Series 3 Harmonized Design™, you'll know how to operate our dimmers no matter what wireless protocol is on the job when you arrive. Every feature that is built into our RC4Magic Series 3 system is now included in all RC4 Series 3 LumenDim and Series 3 W-DIM devices.
For advanced applications, extensive wireless RDM features are provided in RC4 Series 3 LumenDim devices for use with LumenRadio CRMX. Those same features are optionally available for W-DIM devices working with RDM-capable Wireless Solution W-DMX transmitters. Finally, wired DMX and RDM work with every Series 3 device, across all platforms.