The RC4 LumenDimM4micro is a 4-channel CRMX wireless DMX dimmer for LEDs, lamps, motors, and more, in small props, costumes, and more. The inconspicuous circuit-board assembly can easily be hidden in the smallest spaces, even in hair and fabrics.  ** This version uses a built-in chip-antenna, no external antenna needed. **
Each micro purchase includes a 6-pin connector.
The RC4 LumenDimM4micro is a small, 4-channel wireless DMX dimmer using the LumenRadio CRMX/CRMX2 wireless platform. It is ideal for driving LEDs, lamps, motors, and much more, in props, costumes, and set pieces. This device provides an outstanding wireless RDM (remote device management) experience, as well as super-smooth 19-bit LED dimming, high-power halogen dimming, hobby servo-motor positioning, a sophisticated effects engine and more.
All RC4 LumenDim devices include a genuine LumenRadio TiMo CRMX2 radio receiver. Easily assign any DMX channel and dimmer curve to any dimmer with the press of a single button using RC4 OneTouch™, or use Remote Device Management (RDM) via wired or wireless connection.
PWM frequencies Optimizations for power handling, smoothest resolution, eliminating artifacts in video, and eliminating noise in audio systems.
Tungsten lamp dimming
Servo motor control
RC4 Digital Persistence™ A carefully engineered thermal model makes LEDs fade up and down like incandescent and halogen lamps.
HSL Color Controller Choose to use Hue/Saturation/Level (brightness) control of color if desired.
RC4 ColorMatch™ Match color palettes and white-balance different LED sources from different manufacturers.
RC4 Flkr Effects Engine™ Create personalized visual effects, including fire, welding spark, and much more.
Remote Device Management (RDM) The DMX standard for device configuration, including E1.37 dimmer control extensions.
RC4 CodeLoader Update firmware to add features.  Since 2014, more than 10 new features have been added at no cost to users!
The LumenDimM4micro has four channels, ideal for red-green-blue (RGB), red-green-blue-white (RGBW) and red-green-blue-amber (RGBA) LED color-mixing. The RC4 Wireless Hue/Saturation/Level (HSL) Color Controller delivers best-in-class color consistency over the entire dimming range, by ensuring precise primary color ratios even at very low dimmer levels using 19-bit (524,288 step) dimming. Unlike 8-bit DMX control of color mix from a console, which is limited to 256 steps and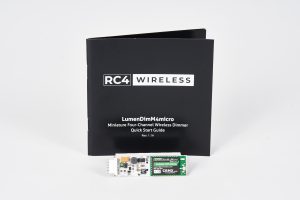 Learn more about working with the LumenDimM4micro at the RC4 Knowledge Base.
The warmth of incandescent lighting has long been favored by lighting designers, and for good reason; natural filament persistence ensures smooth fades even when console control resolution is relatively coarse. RC4 Digital Persistence™ brings this same pleasing smoothness to LED dimming, with a range of eight persistence periods emulating a variety of halogen lamp sizes.
The LumenDimM4micro also features multiple dimmer curves for LEDs, tungsten lamps, non-dim loads (like solenoids and relays), and servo motor position clockwise and counter-clockwise.
.A small Amp MTA-100 6-pin connector is provided for connection of power supply and dimmer outputs.  Each device is provided with one connector with 6″ (15cm) leads. Input DC powers the internal electronics. Dimmers switch on the negative side of the circuit, ideal for common-anode (common positive) LEDs and LED tape. The positive side of external loads (LEDs, lamps, etc.) are wired back to the positive side of the power supply or battery.  Dimmer output voltage is precisely the DC power input voltage with no appreciable losses within the 6A peak power handling limit of the device. Continuous running power is limited to 6A due to the safety rating of the Amp MTA-100 connector pins.
Four dimmer outputs provide an optimal experience with the RC4 Wireless Flkr Effects Engine™. Using DMX channels for control, dynamic animated effects are easily and quickly created using the LumenDimM4. The patented RC4 Flkr Effects Engine™ is not a canned effect generator; it is a tool the enables designers to create unique looks to suit their specific need.
The mini-plug wired DMX data port can be used with a range of RC4 DMX cables, including 3-pin and 5-pin male and female XLR adapters. The most common adapter is the RC4DMX5FA with 5-pin female XLR connector.  This port can output DMX data to nearby fixtures including fog machines, moving lights, and projector dousers. The DMX port can also be configured as a DMX input, allowing the LumenDimM4micro to be used as a wired dimmer.
Either wireless or wired, a comprehensive RDM implementation includes E1.37 dimmer configuration parameters, numerous status sensors (voltage, temperature, current), and each individual dimmer appears as an RDM sub-device.
The LumenDimM4micro was the dimmer of choice by the lighting team for S&K Pictures on Shazam 2!
All prices and specifications are subject to change without notice.
Dimensions: 2.91″ x .779″ x .433″ (75mm x 20mm x 10mm), unenclosed circuit board assembly
Weight: 0.40 oz
Connections: Tyco/Amp MTA-100 6-pin (Custom orders accepted which have no connector at all so you can solder wiring directly to the micro circuit board)
Power Input: 5VDC – 35VDC, 0.5W
Dimmer Outputs: 4 low-voltage DC dimmers, 19-bit resolution PWM (524,000 steps)
Output Power, per Dimmer: 6A non-continuous, 3A continuous
Multiple PWM Frequencies: 77Hz (high power), 615Hz (flicker free), 5kHz (artifact free for video), 20kHz (noise free for audio), 40kHz (super-slow-motion video)
Multiple Dimmer Curves: Non-Dim, Non-Dim Inverted, Linear, Linear Inverted, Inverse-Square-Law (ISL), ISL inverted, servo motor pulse clockwise (CW), servo motor pulse counter-clockwise (CCW), AC wave (ring telephone bells), and more.
DMX Input/Output: RC4 3.5mm mini, USITT DMX512/1990 data, non-standard port, connector adaptors
available. RDM E1.20 and E1.37 (dimmer configuration) support
Wireless DMX Protocol: All RC4 LumenDim devices are now being manufactured with Lumen Radio TiMo radio modules. The latest firmware is fully compatible with CRMX transmitters running both CRMX2 and CRMX Classic, as well as transmitters from Wireless Solution running in G3, G4, G4S or G5 2.4GHz mode
RF Antenna: On-board omnidirectional chip antenna.
A version that uses an external antenna connected via u.fl connector is also available.
Unsure which product is best for your needs?