#RC4DoesThat
What is RC4?
RC4 Wireless devices turn theatrical props, costumes, and set pieces into DMX-controlled lighting fixtures. With best-in-class wireless control, and batteries for untethered operation, all your props, practicals, and costumes integrate into your scenes and cues, managed by your lighting designer and board operator like all the other fixtures in your show.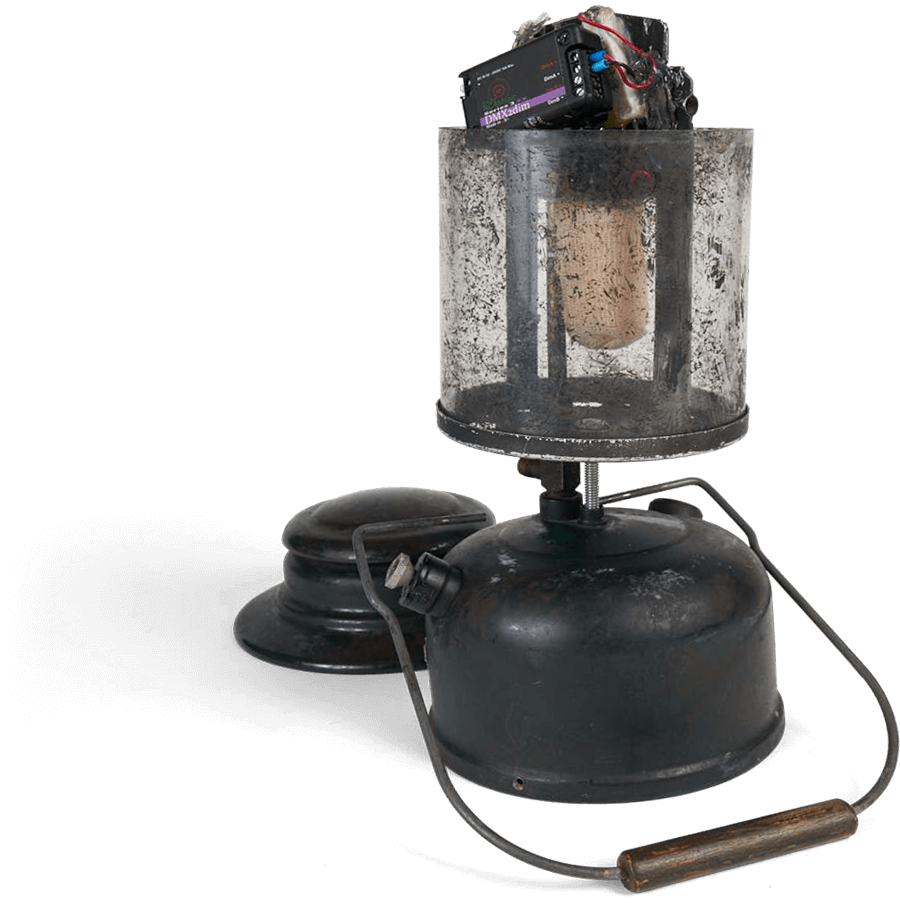 With product families focused on specific markets, RC4 makes ideal devices for exactly what you do. RC4Magic-900 provides incredible range, while operating far away from the 2.4GHz band. RC4 LumenDim uses 2.4GHz LumenRadio CRMX, the defacto standard for wireless DMX in motion picture production.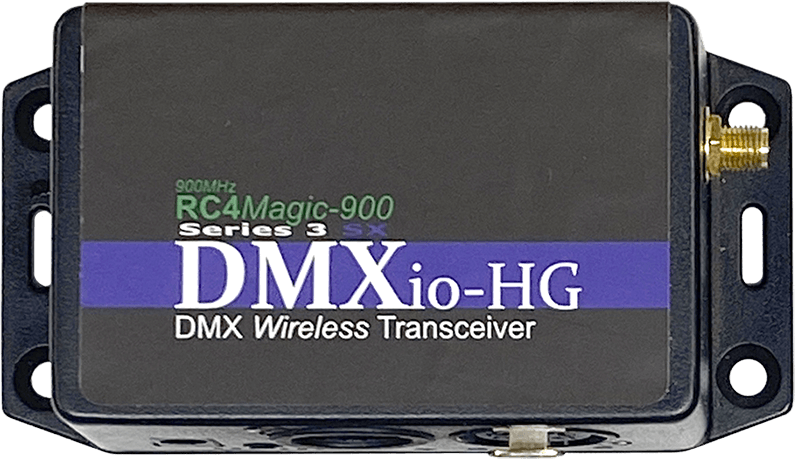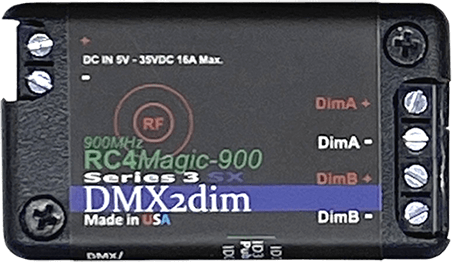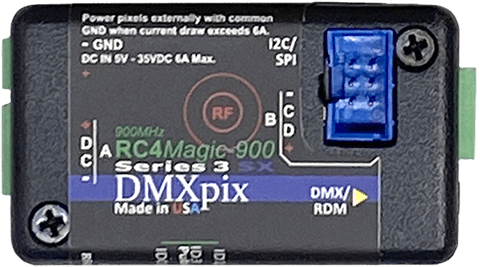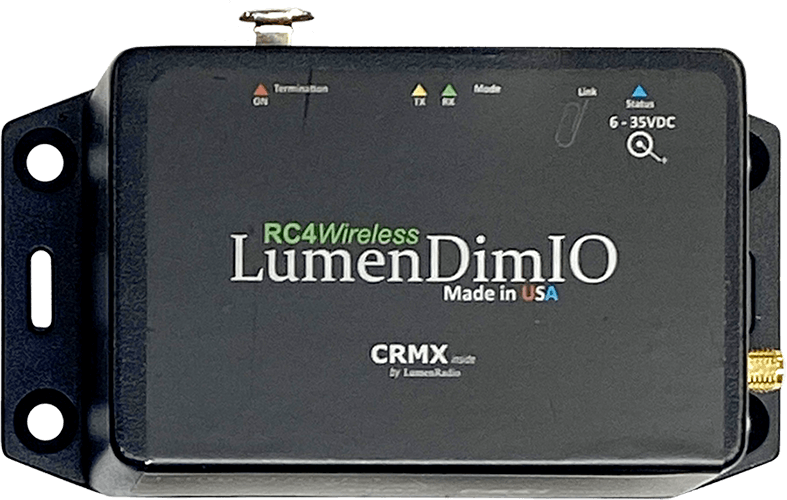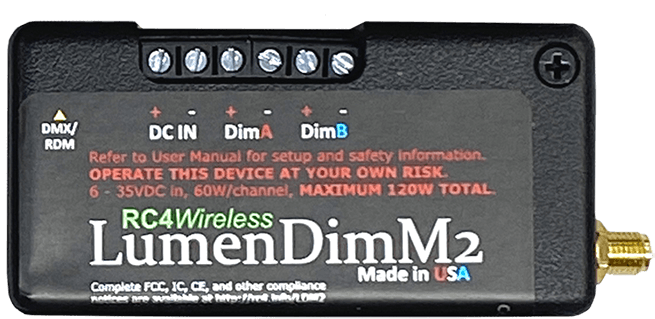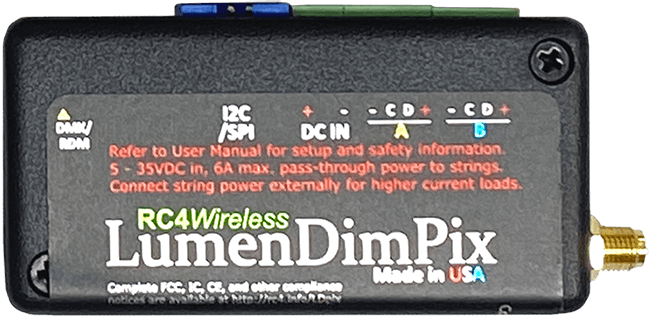 Need help choosing the right RC4 system? There's lots of useful information right here, or contact us directly — we're always happy to assist.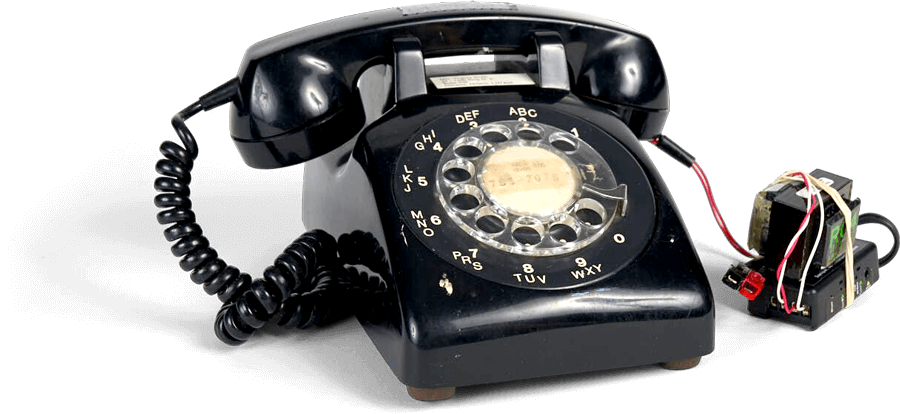 Any ordinary dimmer can handle LEDs, but only RC4 dimmers do so much more. For example, use AC-wave synthesis to ring a telephone bell.
With features and modes for stunningly smooth LED dimming, color correction, effects generation, servo-motor control, and more, RC4 Wireless dimmers deliver unmatched versatility for every application.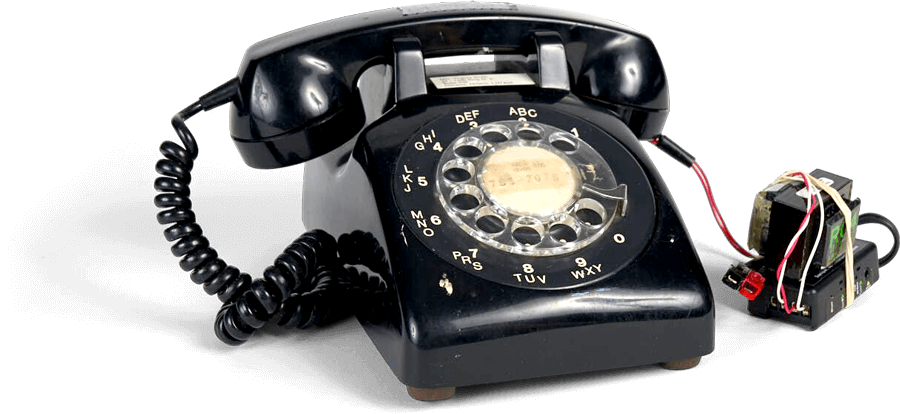 All RC4 systems are controlled by DMX from a lighting console or DMX software on a computer. DMX is the long-standing industry standard for entertainment lighting control, and RC4 is 100% compatible with it.
An RC4 wireless transmitter converts wired DMX data into proprietary and robust digital wireless signals.
RC4 LumenDim systems use industry-standard 2.4GHz LumenRadio CRMX for compatibility with a wide range of major-brand lighting gear used throughout the motion-picture industry.
RC4Magic systems are available in both 900MHz and 2.4GHz versions. Encoded with unique system IDs, every RC4Magic user and production is assigned a unique set of RC4 Private IDentities that belongs only to them — every system is a totally independent Virtual Private Network (VPN).
With private and secure wireless DMX on the airwaves, low-power RC4 Wireless devices can pick up those signals and do a range of things in your props, costumes, and scenic pieces:
Control LEDs, halogen lamps, and anything else that runs on DC power
Position servo motors for things like puppet eyes and ears
Drive up to 1000 pixels from a single driver that is barely larger than a matchbox
Ring a telephone
Spin whirlygigs, run water pumps, fans and other DC motors
Pull pins, activate air brakes, control DC solenoids, relays, and more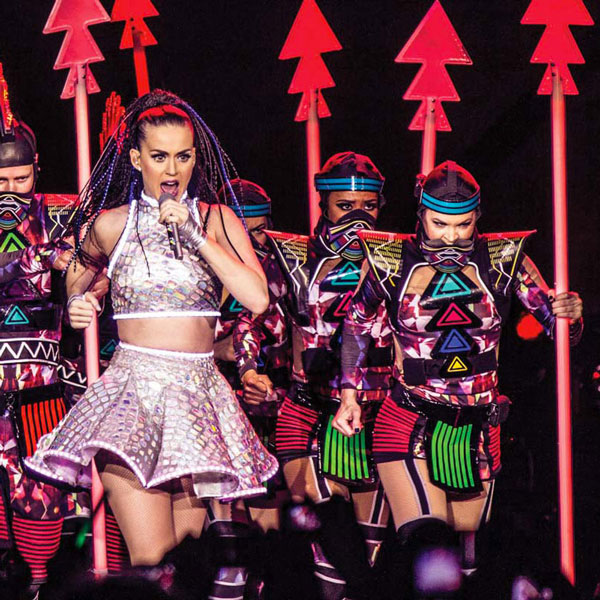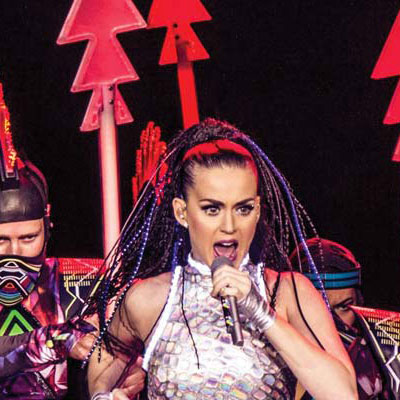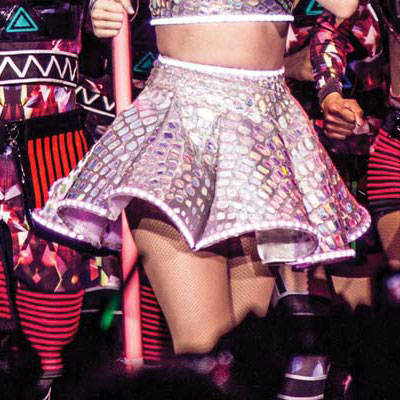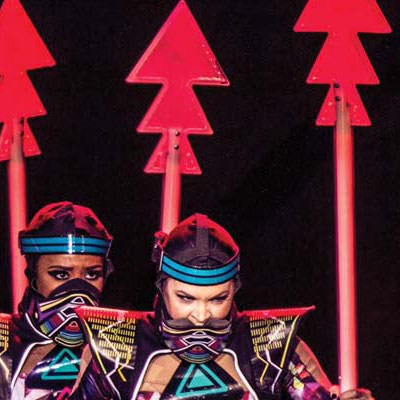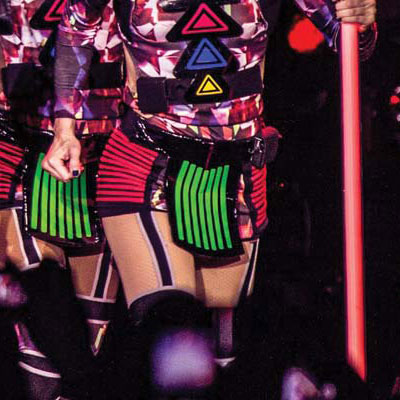 RC4Magic Private Digital IDentities are the reason why Disney, Cirque du Soleil, and other high-profile users depend on proprietary RC4Magic systems every day.
On motion-picture and television sets, RC4 LumenDim is hard at work everyday, seamlessly communicating with products from Arri, Litegear, Rat Pac, and many others.
You can trust RC4, too. RC4 Wireless does not cost more than other less secure technology on the market.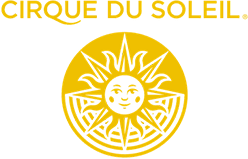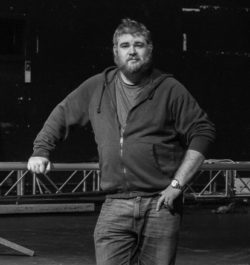 "We absolutely love RC4! At our theatre, we run over 800 performances a year in rotating rep, and reliability is key to our success. RC4 has never let us down!"
Mac Vaughny
Lighting Dept. Manager, Oregon Shakespeare Festival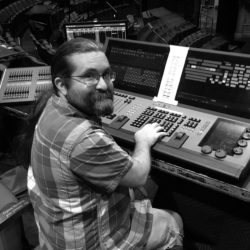 "RC4 gear is incredibly robust, easy to work with and manage. Whether I'm driving RGBW LEDs in a practical, distributing DMX wirelessly, or triggering a Tiny Fogger — RC4 Does That."
Andrew Vance
Master Electrician, Alley Theatre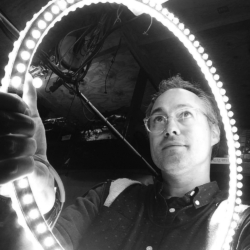 "RC4, again and again, has proven its value and worth through innovation and support. I can't imagine creating the art we do without RC4 products and support."
Zach Murphy
Head of Lighting, Public Theatre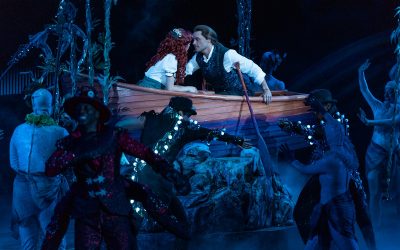 In the year 1836, the magical story of a mermaid and a king leapt out of the imagination of Hans Christian Anderson and became the beloved tale of "The Little Mermaid". When the Tuacahn Center for...
read more