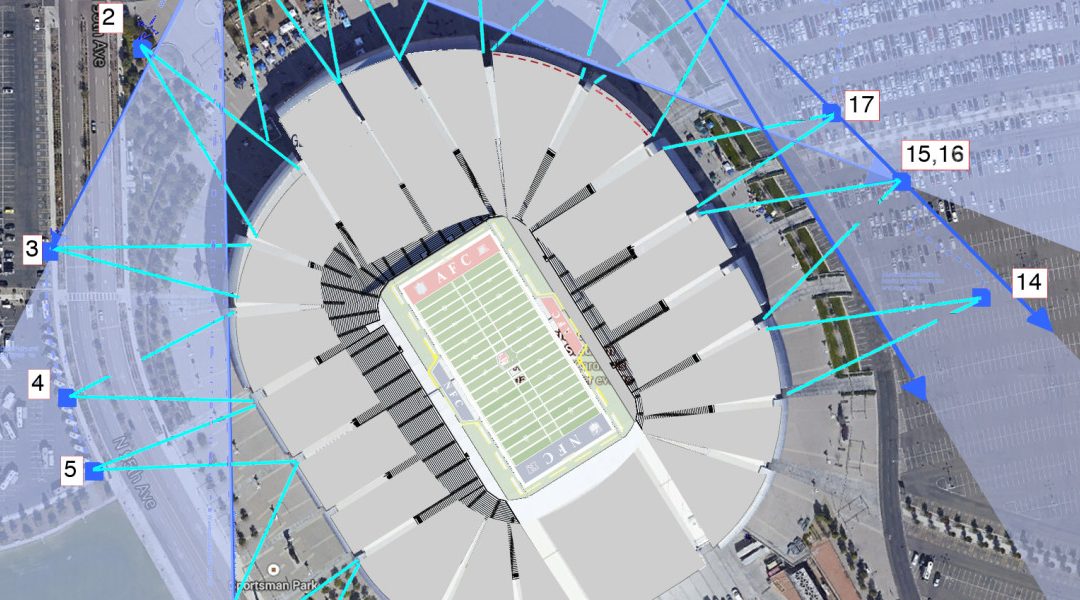 When it comes to big stages, there are few with as many operational complexities as the annual Super Bowl. Months before knowing which teams will play in the game, teams of production experts are busy planning all of the technical aspects of the event. This year the Pro Bowl and Super Bowl played on consecutive weekends at the same stadium, adding to the logistics issues. Having worked with the Super Bowl decor teams since 2005, Dall Brown knows as well as anyone about the challenges of this year's event at the University of Phoenix Stadium.
Wireless Spectrum Challenges
NFL Frequency Coordination – controlling who uses which radio frequencies, when, and for what purposes – is carefully planned and enforced.  This is
to accommodate varied technical requirements of everything from hundreds of two way radios, wireless microphones and cameras, to ticket processing and patron WiFi services, at an event hosting more than 70,000 people on site and more than 110 million broadcast viewers around the world.
Needless to say, wireless applications are mission-critical at events like this. Since there are so many services already operating in the 2.4GHz ISM band, the NFL frequency coordinator does not allow wireless DMX transmission on those frequencies – the most common for wireless DMX lighting equipment worldwide.
Knowing that the ban on 2.4GHz was a significant hurdle, Dall Brown turned to RC4 Wireless for help with wireless control of lighting around the exterior of the stadium.
"When Dall called about a non-2.4GHz solution I was happy to inform him that we had provided systems in the past that were in the 900MHz band," explains Sean Dane, Applications Specialist at RC4 Wireless. "Although we had not produced a 900MHz system for a number of years, we were receiving an increasing number of requests, particularly from large clients wanting to move out of the ever more saturated 2.4GHz band. Dall's Super Bowl project was the perfect opportunity to develop a 900MHz version of the RC4Magic Series 3 wireless DMX and dimming system that recently won a PLASA Award for Innovation."  The new system is aptly named RC4Magic-900.
Painting a Stadium with Light
"This year I am working with the décor team – Blue Media of Tempe, AZ and GMR from Minneapolis. The objective here is to bath the aluminum skin of the stadium in the Super Bowl theme colors as well as the team colors with animated effects.
"We use 8kW Syncrolites on towers around the outside of the stadium. Obviously I would prefer to hard wire the DMX control signals but that isn't possible with all of the pedestrian traffic.
"In previous years I have used 2.4GHz wireless DMX to program, and then used multiple DMX playback devices to run the show. While we are able to synchronize the playback devices, this approach does not allow any real-time control.
"Using the RC4Magic-900 system allows me to change lighting looks on the fly. This frequency-hopping spread spectrum system in the 900MHz band has plenty of range, has been reliable, and it makes the frequency coordinator happy," notes Brown.
Rapid Product Adaptation
Everyone working in the entertainment industry copes with tight production deadlines, and rapidly changing needs demand swift responses. This is something RC4 Wireless is uniquely positioned to do. "Because everything is designed and produced in-house, we are able to do in weeks what would take other companies months or even years," explains Dane.
In just a few weeks, James David Smith, the founder and chief product developer at RC4 Wireless, was able to leverage RC4 Harmonized Design to rapidly create the 900MHz RC4Magic-900 system. "I am incredibly pleased to offer all of the versatility and reliability of our RC4Magic 2.4GHz system, along with improved range due to better propagation at lower frequencies and FCC approvals to transmit with significantly higher power."
While other companies struggle to improve how they utilize the crowded 2.4GHz band, RC4 sees opportunities to move out of 2.4GHz entirely. "902-928Mhz is limited to The United States, Canada, Brazil, Singapore, and Australia," declares Smith. "Even so, we have seen several of our largest theme park, theatre, stadium, and North American tour customers shifting away from 2.4GHz. When I created RC4 Harmonized Design to accommodate not only our own 2.4GHz RF solutions but also industry-acclaimed LumenRadio CRMX and Wireless Solution W-DMX, the result was a versatile, patent-pending platform for rapidly solving new problems with maximum dependability.  Incorporating alternate RF technologies is one of numerous powerful advantages."
A Victory for Both Teams
"We could not be more thrilled to have had the opportunity to deliver the RC4Magic-900 system to Dall and his team for the Super Bowl," Dane declares. "For all of our valued RC4 customers we are determined to deliver technology that is well matched to their needs. We look forward to working with Dall on many more events, helping him highlight the power of light on any object, big or small."
"While I normally rent all the components of a lighting package," explains Brown, "I purchased several of the RC4Magic-900 transceivers. They are small and easy to store and by owning them I can be sure to have them available whenever I need a robust, interference-free network.
"It was a pleasure to work with the RC4 Wireless team during this development process.  I am very pleased that I picked up the phone and called them that day in December."
About Dall Brown Lighting
Dall Brown Lighting provides lighting design, technical direction, and production services for architectural projects, corporate events, trade show displays, sports events, museums, concerts, and more.
Discover more about Dall Brown Lighting at www.dallbrownlighting.com.