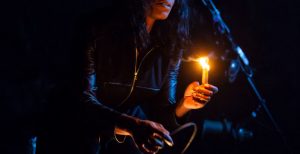 'The Iliad' is an epic piece of classical poetry and has been transformed for the theater in 'An Iliad'; earlier this year, it was presented by the Long Wharf Theatre. The Director was Whitney White, with Lighting Design by Kate McGee. "'An Iliad,' from its conception to its present incarnation at Long Wharf, is designed to overcome every objection on which theatergoers indifferent to Homeric Greek rely when confronted with such classics. As evident in Long Wharf's superb production, 'An Iliad' is as relevant and timely as the blood in your veins," notes E. Kyle Minor of the New Haven Register.
For the production, Lighting Supervisor James Horban needed a wireless solution. He explains: "For 'An Iliad', we needed an effect that appeared as though a fire was lit and huddled around by the poet. From the Director's perspective, it was a rather spiritual moment for the poet, and we went the route of lighting a Palo Santo incense stick, which then mimicked lighting a larger fire and gave off the desired smokiness. I knew that we needed a potential high-output solution due to the rock-and-roll lighting design, and I wanted to investigate a solution that gave more flexibility and options than strictly an incandescent source. A wireless solution was needed as the firepot was pulled out of a trapdoor by the poet."
Read the full story of RC4 Wireless and Long Wharf Theatre here.