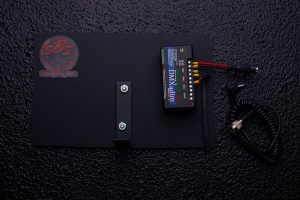 'America's Got Talent' has been at the forefront of prime time television for over a decade with a vast array of performers; from magicians to ventriloquists, dancers to singers, the show has it all. Since 2014, 'America's Got Talent' has relied on the incomparable and iconic design firm, Full Flood Inc. for all of their Emmy-nominated lighting. The Full Flood team, headed by Lighting Designer Noah Mitz and Lighting Directors Michael Berger and Will Gossett, partnered with RC4 Wireless to provide AGT with all of their wireless dimming and DMX needs.
"Each week at AGT the creative team comes up with ideas that sometimes require battery-powered, wireless controlled devices," notes 'America's Got Talent' Best Boy Scott Beck. Full Flood then turned to the RC4 Wireless 900MHz series of products for their wireless needs. "We exclusively use 900MHz products on our shows," comments Lighting Director Michael Berger. "There is so much else within the wireless spectrums here — cameras, microphones, internet, Clear-Com, and so on — that this was the safest spectrum everyone felt comfortable with."
Read the full story of RC4 Wireless and America's Got Talent here.