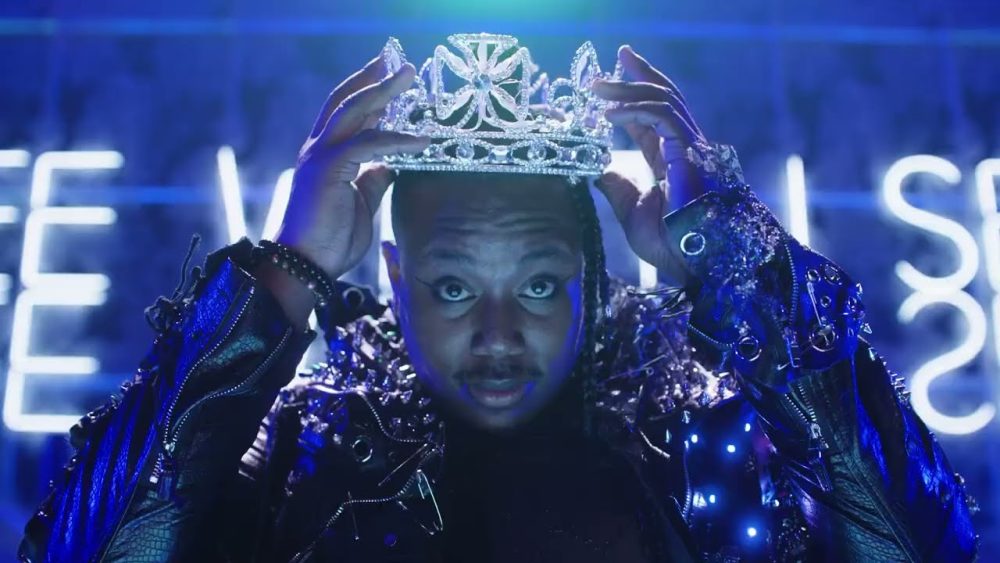 Fat Ham, is a deliciously funny, Pulitzer Prize-winning new play by Playwright James Ijames and Director Saheem Ali. It reinvents Shakespeare's masterpiece. Juicy is a queer, Southern college kid, already grappling with some serious questions of identity, when the ghost of his father shows up in their backyard, demanding that Juicy avenge his murder. But here's the rub! Revenge doesn't come easy to Juicy, a sensitive and self-aware young Black man in search of his own happiness and liberation. From an uproarious family cookout emerges a compelling examination of love and loss, pain and joy.
Enlighted Designs created some fearless art for this critically acclaimed play. Relying on the RC4Magic-900 series DMXpix, they created a glorious glowing crown fit for a king — truly a stunning hero prop —  along with costumes which encapsulate the main characters flair and energy.
The crown has a zippered pocket in the back that holds the DMXpix receiver and a 9V battery.
Juicy's coat has LEDs mounted like studs.
"FUNNIEST AND MOST INVIGORATING NEW SHOW ON BROADWAY."  – Variety
"A DELICIOUS AND IRRESISTIBLE PIECE OF WORK! SWEET, SAUCE, AND VERY FUNNY, FAT HAM HAS ENOUGH GOOD-TIME DISCO SPARKLE TO WIN OVER ALL BUT THE GRUMPIEST OF SPIRITS." – Deadline
"DON'T LET THAT PULITZER PRIZE FOOL YOU. FAT HAM IS THE MOST FUN YOU'LL HAVE AT ANY PLAY THIS BROADWAY SEASON." – The Wrap
"SMART, FEARLESS, BLISTERINGLY WELL-ACTED AND WILDLY ENTERTAINING!" – Chicago Tribune
"HOT AND SIZZLING! A RAUCOUS, FLAT-OUT HILARIOUS COMEDY! FAT HAM IS A REVELATION!" – The New York Times